WHAT TO WEAR TO YOUR PHOTO SESSION
What you'll wear to your session matters so much when it comes to the overall look of your photos which is why I offer a client closet....that's right, you heard me! A closet made especially for you to borrow and wear to your photo shoot. Forget about putting all that thought and stress into your outfit. All you have to do is scroll through my online closet and choose your favourite items I've personally shopped for. These pieces are thought out carefully by me. I look for clothing with great quality, colours, textures and patterns that will photograph beautifully. Choosing to use this option will save you time, money and a headache. It'll make this whole photo process so much more enjoyable and smooth!
Clothing, Shoes & More
Whether it's your partner or kids, I offer endless advice on how to style each person.
Some tips to consider include;
Bringing an extra outfit for each person. Seeing your choices in person will allow me to make a more educated decision and pick the outfit that will photograph best.
Choose colours that are earthy and rich. Avoid bright "highlighter" colours, whites and black. I repeat... AVOID WHITE AND BLACK.
Don't be afraid to incorporate some patterns. I love clothing with brilliant but subtle patterns.
Wearing something with texture, movement and flow.
Colour coordinate everyone, but don't go overboard. We want it to look like it wasn't forced. Don't be afraid to mix a few different colours together.
My favourite thing for a guy to wear are jeans (ripped are my fav!) with a shirt that has a bit of texture with buttons and pockets. I also suggest them bringing a cool jacket.
Sport some cute sandals or boots. I prefer that over sneakers. Or you can always go. barefoot.
Bring a swimsuit. I love photographing beach sessions.
Accessories like hair clips, jewellery, hats, etc. goes a long way.
INSPIRATION BOARDS
SHOPS TO VISIT:


HAIR, MAKEUP & THE REST OF THE GLAM
YOU SHOULD...
Consider having your hair and makeup professionally done. I suggest that your hair be left down. If you'd like to wear it up, have it done loosely. I like when it can blow in the wind a bit or can be tousled around.
Ask for extra contouring! Tell your makeup artist it's for a photo session.
Bring a hair tie and some bobby pins.
Make sure you have an even tan or none at all. No tan is better than a tan with crazy tan lines.
Keep your lips hydrated and your legs moisturized.
Pay attention to your nails. This is pretty darn important. Your hands end up in a lot of photos and bright nails can be distracting.
Add some extra lashes.
YOU SHOULDN'T...
Wear heavy black makeup around your eyes.
Get a spray tan. Please please pleaseeeee don't do it, unless it's done by a veteran who won't turn you orange.
Wear neon nail polish.
Stress if you have a pimple.


WHEN & WHERE WILL YOUR SESSION TAKE PLACE?
Location, location, location.... oh so very important. How lucky are we living in this beautiful province of British Columbia. The photo locations here are endless. The only problem we will have is that we have too many places to choose from, and trust me, that's an excellent problem to have.
Quality light is always on the top of my list when picking the right place for our session together. I always schedule my shoots close to sunset. I understand this can be difficult if you have young kids, but try your best to nap them a little later so they can stay up a bit longer. If you are really drawn to my style and want the same results for your shoot, the timing of the day in which we shoot is extremely important.
Next is the backdrop. I look for clean, non-distracting places with lots of space to run around. If you are hoping to do your photo shoot somewhere outside of the Langley area, that is totally fine! I am always up to exploring new places.
Outdoor maternity, family and couple sessions are most popular for me, but I do love in home sessions. These can be so cozy and these types of sessions can add personal touches to the photographs.
Once you have booked your session, we will discuss what kind of location fits you best!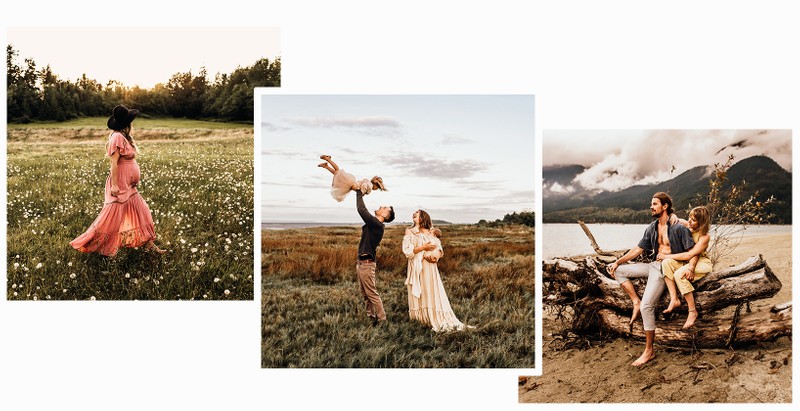 LAST FEW POINTERS...
Show up early. We set a time for a reason, so don't be late. Selecting a time close to sunset means that eventually our natural light will be gone! Every minute you are late= minutes of shooting time lost.
Feel connected with each other before arriving to the photo location. The last thing I want is for you guys to show up flustered and grumpy with one another. And if you have kids, remember, they set the tone of the shoot, so if they are happy, we are all happy!
It's okay to be nervous, but you'll realize very quickly that there was nothing to be nervous about!